This post is also available in:

Svenska
REVOLUTIONARY BIO-MICRO NEEDLING
The new era of microneedling  completely without needles, pain or blood!
Creates 3 million microchannels compared to classic microneedling, which creates approximately 1 million microchannels. Sponge spikes are a kind of siliceous biomicroneedle extracted from the freshwater sponge. It stimulates both the epidermis and dermis of the skin. It can be seen as powder to the naked eye and as a sharp rod crystal under the microscope.
Can, just like classic microneedling, be used to treat:
Acne & scars, Pigmentation, Sun damage, enlarged pores/oily skin, uneven skin tone, hormonal pigmentations, stretchmarks and of course wrinkles/fine lines! Bio-Microneedling is very effective even in active acne. It is possible to treat the face, neck, décolleté, but also other areas such as hands, tummy, back, thighs, etc. We can also treat the scalp.
A scalp treatment with Bio-Microneedling can help with problems with greasy hair, irritated scalp and hair loss. It can also be done for a deep cleaning that both exfoliates and increases collagen production. The hair should be freshly washed before the treatment and you should wait to wash it at least for 24-48 hours after the treatment.
In order for you to experience and feel how effective a treatment with Alganeedling/Bio-microneedling is, we offer you your first treatment at a significantly reduced price. If you choose e.g. face and neck, you only pay SEK 995 (ord. SEK 1800)! Welcome to book your first treatment!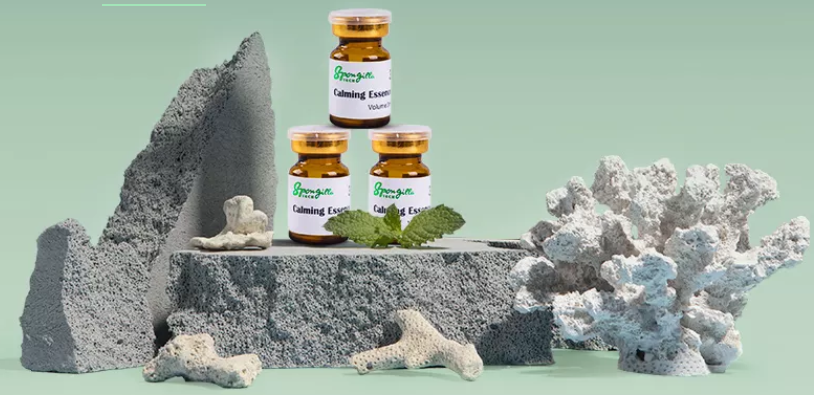 We recommend a course of 4 treatments approximately 2 weeks apart.
Here some before and after pictures of my client taken at the certification for algae cultivation at BCN Sweden.
Bio-Microneedling, treatment for:
Skin renewal
Skin rejuvenation
Tighten the skin
Wrinkle reduction
Pigmentation treatment
Active acne treatment
Acne scars
High fat production
Blackheads/large pores
Scar formations
Skin stretch marks, strechmarks
Greasy hair
Irritated scalp
Hair loss
Deep cleaning scalp
Bio-Microneedling contraindications:
Pregnant or breastfeeding.
Skin metabolism diseases.
At least 2-4 weeks after injections, laser etc.
In the case of very impure acne skin, we recommend that you do a classic facial treatment with pore emptying before the treatment for the best effect.
If you know that you react easily to skin treatments, we recommend that you take some antihistamine tablets before and after the treatment for preventive purposes.
– You may be a little red after the treatment.
– Avoid washing the area for the first 24-48 hours.
–  If you should have a reaction, we recommend some antihistamine tablets.
– The first 1-3 days, the skin may sting a bit when you touch it.
– After a few days the skin may peel, do not pull on skin that flakes.
– Avoid direct sunlight and use sunscreen.
– Make sure to have a clean towel after cleaning.
– Change to a fresh pillowcase.
-Do not use active skin care products.
– Use a pure moisturizer to hydrate the skin if it feels dry or tight.
Your skin will return to looking "normal" within 6-8 days (often within 4). We recommend a course of 4 treatments approximately 2 weeks apart. Full effect is achieved approx. 6-8 weeks after the treatment.
It is good if you use a recovery cream to help the skin's renewal in the best way.
We recommend Fillmed by Filorga's B3 recovery cream or Ribeskin's epiderm plus gel, which can be purchased in our webshop or in the salon.
This post is also available in:

Svenska