This post is also available in:

Svenska
Many people feel uncomfortable if they have darker pigments on certain parts of the body. In some cases, this is due to hormones, a pregnancy, friction or heat but it can also be congenital. One should be aware that it is natural and that most people are darker in the intimate areas. If you now, after all, want to try to light up certain areas, there is little to think about.
We work with two different options – bleaching or chemical peeling. Both of these reduce pigmentation and usually have a very good effect.
Chemical peels are kinder and suit most people. This is a TCA peel 35 & 50%.
Chemical bleaching is stronger and you need to do a stress test before you can proceed with this treatment.
To begin with, bleaching is not beneficial for the skin and is not recommended by dermatologists.
It is also associated with certain risks. You can get, for example, irritated skin or an allergic reaction. Skin whitening works by reducing the presence of melanin in the skin. You are solely responsible for the possible consequences of bleaching, both positive and negative.
With that said, intimate bleaching is extremely popular in the world. In some countries it is estimated that between 60-80% of the adult population bleaches. It has existed in Sweden for many years, but we are still quite a few tiles that have the knowledge and perform this treatment.
What areas can you try to bleach?
The inside of the thighs, the entire intimate area both in front and around the anus, under the arms, nipples and knees are common areas.
Does it really work?
It works for most people but for some it does not work and for some you do not really get the results you want even if it gives a weak effect. If it works for you just can not answer, you simply have to test. Through Intimate Bleaching, most people can restore hyperpigmented areas to the original shade or at least as close as possible.
Do you have to pay if it does not work?
Yes, unfortunately, we still incur overheads for both products and staff.
How many treatments do you need?
We recommend at least 3 treatments at the salon with an interval of 3-10 days. If the desired result has not been achieved, you can do up to a maximum of 10 treatments within a course. It takes a few weeks before the result is visible, but once it does, it then goes fast. Most people achieve the end result within 4-6 weeks.
Who can do an intimate whitening?
Bleaching works best for, and is intended for, pigment changes. Those caused by hormones, friction, heat or vitamin deficiency are usually suitable for treatment. You must be at least 18 years old, identification is always required regardless of age. You have to be generally healthy. The skin on the area must be intact and free of irritations. You who have skin type 6, the darkest skin type, can not bleach yourself. It has no effect. You who have innate very dark pigments also have a hard time getting the effect of a bleaching. For those of you who choose bleaching instead of chemical peels, the following also applies: You must absolutely not be pregnant, breastfeed or plan to become pregnant shortly. Men are also not allowed to plan to become a parent during the treatment period and 3 months thereafter.
How does it work?
The skin is treated with a chemical peel or a chemical solution for bleaching that is allowed to act on the area for a while. The product is then wiped off and the area is lubricated with an after-care cream for continued bleaching effect. Thereafter, you should daily use the exfoliating intimate wash and Bright Maintainer 3% daily during the treatment regimen.
Does it hurt?
No, it does not hurt. It can tingle and feel a little warm. If it starts to sting, is really hot or if you seem to get a reaction, we stop the treatment immediately and neutralize the skin.
Isn't it embarrassing to lie there?
We have long been specialists in intimate treatments for both women and men. This is something we work with daily. With us, you can feel safe and calm even in this situation.
Before your treatment.
At your first visit, we do a consultation where we go through what intimate bleaching means and that you can fill in a health declaration. Then we do a stress test to see if you are suitable for further treatment. We therefore perform a first bleaching of the area during this visit. Come freshly showered and do not use creams etc on the area. You must be waxed or shaved on the entire area no later than the day before the treatment. When bleaching (does not apply to chemical peels), you should not sunbathe at all during the treatment period. You should also avoid alcohol.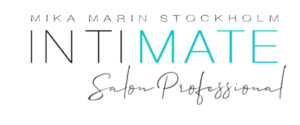 We are trained and certified at By Mika Academy.
We also provide the products in  Intimate By Mikas series for intimate care.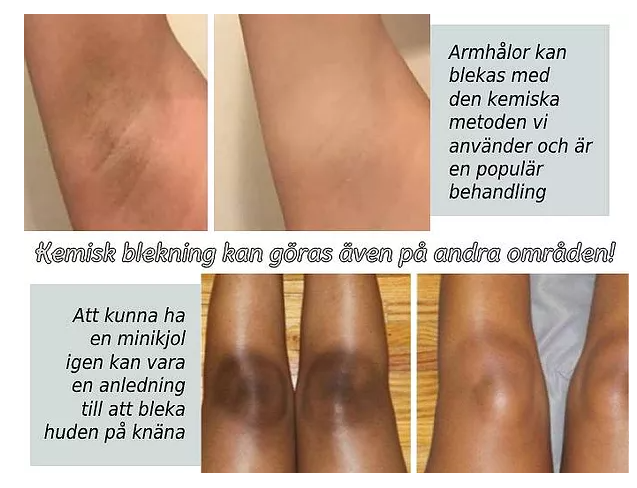 Chemical peeling TCA 35 & 50%. The active substances are: Lactobionic acid, Salicylic acid, Citric acid, Vitamin B2, Hydroxyproline, Arginine, Gommo-aminobutyric acid, Squalane, Isopropil Miristat.
Chemical bleaching. Here, Kojic acid is the base. For further treatment at home, the substances are: Water, niacin, propylene glycol, glyceryl stearate, stearic acid, koilic acid, ethylhexyl palmitate, cetyl alcohol, palmitic acid, sodium cetearyl sulfate, tocopherol, triethanolamine, sodium metabisulfate, methyl paraben, citral paraben, cucumber, perfume.
This post is also available in:

Svenska