This post is also available in:

Svenska
LED light therapy is suitable for the whole body
Light therapy with 7 different lights that can be adapted to the skin's needs. You can treat, for example, face, neck, décolleté, back, etc. Infrared light that is supplied via light therapy is good for the skin. Infrared light that we get through sunbathing, however, is not good for the skin as it is combined with UV rays.
Treatment with LED light improves the body's natural cellular recovery, speeds up healing, treats active acne, provides skin rejuvenation and more. The treatment adds a concentrated energy deep into your tissue that affects your body at the cellular level without harmful UV rays.
LED lights can be used as a stand-alone or as a complementary treatment.
The deep LED lights are soothing, they target deep into the skin cells to increase blood flow, stimulate faster healing, reduce pain, reduce acne and more.
The treatment is completely painless and suits everyone, it works both for preventive purposes and helps to reduce already visible lines.
Can be combined with facial treatment such as chemical peels, microneedling and tixel / mesotix.
LED light treatment is the new beauty trend, read more in the magazine Elle's article.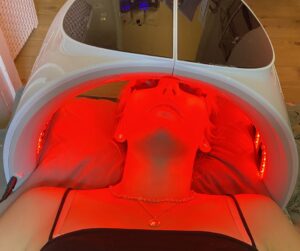 This post is also available in:

Svenska